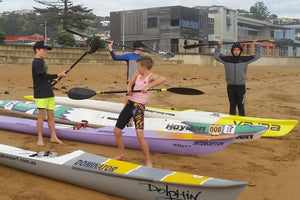 SRC & Intro Ski Squads
There has been a steady roll up at all of the SRC and Intro Ski Squads which has been fantastic. The group had a crack in all conditions which was very encouraging. The SRC squad included Callum, Mitchell, Connor, Charlotte, Lachlan, Georgia, Grace, Ella, Zahlee and Dylan. The Intro Squad included Harry, Jake, Marcus, Noah, Ryan, Hayden and Will.
The squads practised specific stages of the paddling stroke including the 'Catch', 'Stroke' and 'Exit/Setup', concentrating on a strong upper body frame. Some members progressed to attempting and completing a jump start.
The intro ski squad caught there first wave, learning that it is important to keep paddling to ensure that the rudder stays in contact with the water, helping to keep the ski straight on the wave.
Now that the weather is starting to cool off and the majority of members are commencing winter sport, the kids are taking a well earned rest.
There will be some river sessions scheduled prior to the Winter Kayak Series which will be commencing in May. Look out for the posts on our facebook members page and our website - keep fit and stay active!
---