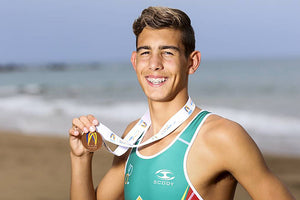 Runaway start for Stretton
Burnie's Ethan Stretton claimed the bronze medal in the youth division in round one of the National Junior Triathlon series event at Runaway Bay in Queensland.
Coming into the final race in fifth place on points, Stretton was narrowly defeated on the line in a sprint finish by eventual gold medalist Rory Thornhill of New South Wales.
The 15-year-old said he was confident heading into the last race thanks to a chat with his coach Gabe Dennison.
"My coach said to me that I was the fastest or second fastest runner left in the field and I knew I just had to stay with the front pack on the ride," Stretton said.
"I stayed with the front pack, but had trouble putting my shoes on in transition for the run leg, it put me 40m behind and Thornhill just got the better of me."
The second place finish in race five helped Stretton to guarantee third place overall, 49.5 points behind Thornhill and 4.5 points behind New South Wales silver medalist Mitchell Westhuizen to became the first Tasmanian to medal at Runaway Bay since Jake Birtwhistle in 2012.
The triathlon series came at the end of a busy fortnight for Stretton, who also competed in the swimming at the Pan Pacific School Games in Adelaide the week before.
Stretton said the busy schedule made physical and mental recovery important during the fortnight.
"Recovery between the Pan Pacific Games and this week's racing was really important, which involved a lot of stretching and cool downs.
"It also took a mental toll, but you have to roll with the punches even if you were tired, like in the last two days at the triathlon."
Stretton's focus will remain with triathlon over the summer, with the second round of the series in Adelaide in February, before the final round in Perth in March.
Meanwhile in the George Town Triathlon on Saturday, Ulverstone's Andrew Watson finished second behind Birtwhistle.
Source: The Advocate Newspaper. Story Jarryd McGuane, Picture: Cordell Richardson.
---