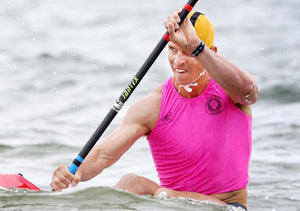 Sam Wins Ocean6 Ski Final
Historically, Sam Norton is the fastest, most credentialed paddler that Tasmania has ever produced. Sam recently added to his already impressive resume, coming away with a strong, almost clinical, win in the recent Ocean6 Men's Ski Final at Coolum.
By Sam's standards, this season has been a more laid back approach compared to previous seasons due to work commitments, planning a wedding with fiance Casey, and building their first home. However, his ability to perform under pressure at national/international events, including the 'Big Dance' (Aussies) appears to be on track once again.
Sam has featured in numerous Open Mens Australian Finals in past seasons, unlucky not to come away with a medal. He and brother Tom have consistently made the Open Men's Double Ski Final at the Aussies, starting in 2011/2012 (excluding 2016/17 due to inclement weather resulting in the event being cancelled).
Sam and Tom also recently paired to win the Ocean6 Mens Double Ski at Queenscliff.
The Ocean6 Mens Ski scoreboard, top 5 features both Sam and former Tasmanian nemesis and friend, Jared Wiseman. It's fantastic to see two of our top competitors taking on the big island and we wish them all the best for the coming 2017/18 season.
Ocean6 Mens Ski Top 5
| | | | |
| --- | --- | --- | --- |
| 1 | Ben CARBERRY | Burleigh Heads Mowbray Park SLSC | 188 |
| 2 | Sam NORTON | Burnie SLSC | 155 |
| 3 | Jeremy COLLINS | Mermaid Beach SLSC Inc | 134 |
| 4 | Jett KENNY | Alexandra Headland SLSC | 123 |
| 5 | Jared WISEMAN | Mermaid Beach SLSC Inc | 107 |
---