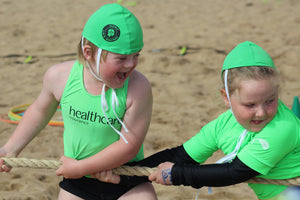 Periwinkles grows in strength
The Periwinkles program has gathered even more momentum in 2018. Thanks to the hard work of managers Emily and Jono Price, Luke O'Garey, parents, helpers and our ever supportive water safety crew, the program for 2018 has been a resounding success.
The Burnie Nippers Periwinkles program introduces children under 7 to surf lifesaving by encouraging participation in safe, fun and organised activities in a beach environment.
Our focus, as a surf life saving club is to educate the community, young and old, on both beach and water awareness to target a reduction of preventable drownings on patrolled and unpatrolled beaches and waterways.
Congratulations Emily and Jono on another successful year! If you would like to find out more about the program, visit our contact page to send an email to nippers@burnieslsc.org.au, call or submit a message via the secure online form. A representative will be in touch as soon as possible.
---