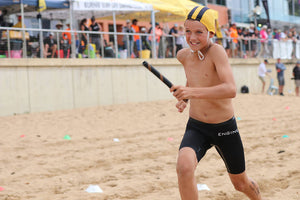 Junior state champions 2018
Our nippers made the most of the home beach advantage to take out the club championship at the Tasmanian Nipper State Titles over the weekend. The result came down to the wire with points from the final few events giving us a points victory over defending champion Carlton Park, with Ulverstone coming in third.
The weekend of competition produced some excellent team and individual efforts for Burnie.
The final event of the weekend was possibly one of the most exciting, with a four way battle for the Under 14 Iron Man title. Ulverstone's Tom Woodhouse and Jensen Walton traded the lead with Port Sorell's Jonte Armitstead and Clifton's Oliver Pooley.
The four swam into the final run up the beach with Pooley taking the win from Armitstead and Woodhouse, and Walton a very close fourth.
The Under 14 Iron Woman was also a close battle, with Ulverstone's Phoebe Woodhouse and Zali Munday from Burnie coming out of the water neck and neck, with Woodhouse the better across the sand for the win, with Elsie Menzie from Ulverstone third.
Tasmanian Championship Points – 1. Burnie 607; 2. Carlton Park 586; 3. Ulverstone 389; 4. Port Sorell 353; 5. Clifton Beach 328; 6. Penguin 191; 7. Bridport 180; 8. Devonport 102; 9. Boat Harbour 71; 10. Kingston 51; 11 Somerset 48.
Source:The Advocate, March 5, 2018
Photography by Susan Cahill
---