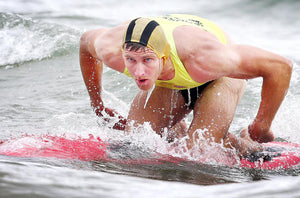 Nathan wins 1st Ski Safari
Congratulations to Nathan Cross for winning the 2017 Surf Safari Long Course Open Ski over 21kms. Nathan and Sam Norton worked together over the closing stages with Nathan managing to break away over the last 500m of the race.
More than 120 ski paddlers, boat rowers, outriggers and board paddlers hit the water for the 49th Surf Safari at Lower Sandy bay was run as part of the 2017/18 SLST endurance Series and saw competitors race across 20 categories.
In the Open Womens category, Courtney Dowling won ahead of Annette Lakeland in second place.
In the Surf Boat categories, Burnie's A Boat was successful over Clifton Beach. The crew consisted of Adrian Norton (Sweep), Richard Norton, Alex Mckenzie, Hamish Howe and Damian Pursell.
Main picture: Nathan competing in the summer carnival series in the Men's Open Board.
---